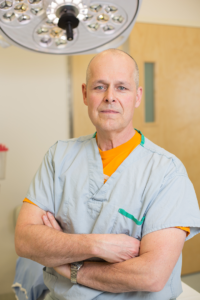 Dr. Joe Dort knows head and neck cancer inside and out. A University of Calgary educator and surgeon by trade, he's dedicated his career to saving patients – not just treating them, but improving the care they receive and restoring quality of life for them and their families.
But it's his work as a researcher, examining and improving processes in the hospital, where Dr. Joe Dort is making his latest career mark. He is passionate about improving the health care system itself – designing and delivering health care that is more efficient and more effective.
Designing better health care
One of the ways he's doing this is through a head and neck pathway program he developed in 2010 and continues to be used and refined to this day.
"Back in 2009, if you were a head and neck cancer patient and you were having a surgery, you'd end up in the hospital for an average of 22 days. Over three weeks, you'd have about a one in three chance of having pneumonia and high risk of other complications."
Deciding that wasn't good enough, Dr. Dort and the team developed a new care pathway. Today, the current length of stay for head and neck surgery patients is on average is nine to ten days and the pneumonia rate is less than four per cent. Dr. Dort says the difference is standardized care, with a precision medicine focus.
"It's much less variable because all of the members of the team do the same thing. And if we vary from the protocol, we vary because of something the patient needs."
Not only is this better for the individual patient; it's saving the health care system time and money.
"It's been millions of dollars and thousands of complications avoided because of applying the science of clinical effectiveness to this group of patients, and taking it to broader cohorts of surgical patients."
This is a powerful example of the way University of Calgary research is informing care and improving outcomes for cancer patients – in Southern Alberta and around the world.
Technologies
Another way Dr. Dort is leading the way in improving treatment and outcomes is by harnessing the power of new technologies.
He and his team are developing a virtual reality (VR) program to practice surgery outside of the human body. Students and doctors will be able to put on VR goggles and go into the operating room to practice operations in a simulated environment. This training and opportunity to practice will benefit countless patients – improving expertise and reducing risk for error.
Alberta-led innovations like these contribute to better patient outcomes, bringing research from the lab to the bedside to advance treatment and care.
Changing the culture of how care is delivered
Dr. Joe Dort sees the Calgary Cancer Centre as an opportunity to get it right for patients and families. He says that the path forward is an improved health care system – something that seems simple but is not easy. But if anyone can do it, he says it's Alberta, which is set up with the one health care system.
The outcomes of this work are real and life-changing.
"What we're really trying to do is get closer and closer to a world where more cancers are cured, but also detected earlier and treated better, and treated in a way that allow people to get back to whatever level of function they defined as being meaningful and have a life that they define as a life worth living."
Through the Calgary Cancer Centre, Dr. Dort says we can change the culture of how care is delivered. "We have a historic opportunity to create something that will really be impactful at the centre level, as well as at the individual level."
https://owncancer.ca/wp-content/uploads/2021/12/joe-dort.png
1080
720
Brennan Black
https://owncancer.ca/wp-content/uploads/2021/08/OWN.CANCER_Wordmark-300x50.png
Brennan Black
2021-12-02 17:01:37
2023-02-13 22:08:55
Dr. Joe Dort