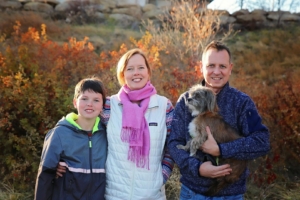 In early 2017, Sherry Wood wasn't feeling well. Her general practitioner was a good friend of hers — someone she could confide in. After a recommended ultrasound, it was only 30 minutes later Sherry and her husband, Don, received a call, asking them to come back to the doctor's office.
After more tests, the Woods sat down with a doctor at the Holy Cross, and heard the words, "You have cancer and it is stage 4." Within a week, Sherry was in treatment. "She was sent to an ovarian surgeon because, at that time, they believed it was ovarian cancer", says Don.
"They did surgery on what they thought was an ovarian cyst, but it turned out that there were cancerous cells elsewhere in her body. They did what they could, but it started a litany of other tests to determine what it was. It went from a diagnosis of ovarian cancer to colorectal cancer, which meant multiple doses of chemo and surgery."
The Woods had other hiccups. Sherry's stage 4 metastatic colorectal cancer spread to her liver and her lungs. "We were lucky she was at the Tom Baker, and we had the best doctors and nursing teams," says Don. 
Sherry Wood went through more than 30 rounds of chemo and three major surgeries, with Don always at her side. He left his job as the director of an environmental consulting company and started a consulting business of his own so he could care for Sherry through her treatments.
Sadly, she died in April 2020, at home, with Don and their 13-year-old son, Anderson, at her side. 
Don remains a member of the Patient and Family Advisory Council for the new Calgary Cancer Centre, which he joined in 2019. He volunteers his time by offering insight on the healthcare system—and gaps in it–as well as business oversight on several working groups where patient and family advisors (caregivers) participate with AHS staff and other organizations like the Alberta Cancer Foundation and the Cancer SCN. Through continuous feedback and learning, he knows cancer treatments will evolve and improve rapidly.
He believes in the power of research, in the power of data to inform better outcomes and knows that if patients continue to provide much-needed insight to their healthcare teams, it will mean improved treatment and care can only improve. 
"We had great oncologists and nurses doing amazing work, but by becoming a family advisor, I learned how to navigate the system as a caregiver. And I figured that we'd learned so much from being on the other side of the table, we could help others."
Don continues to do that as much and as often as possible, knowing how important it was to Sherry. When the doors open at the Calgary Cancer Centre, he will feel an extra sense of pride, knowing his volunteer work has helped inform some of the small design touches, but also how patient and family reported outcomes could improve treatment and care.
This is our moment. Our once-in-a-generation opportunity to transform the landscape of cancer research, care and treatment. We're ready to OWN.CANCER. Are you with us?
https://owncancer.ca/wp-content/uploads/2021/11/Wood-family.jpg
1080
1621
Dhakshayini Boopalan
https://owncancer.ca/wp-content/uploads/2021/08/OWN.CANCER_Wordmark-300x50.png
Dhakshayini Boopalan
2021-11-25 20:22:26
2023-02-13 22:11:48
Don and Sherry Wood's Story