It was a day like any other when Brandi found a lump that would change her life forever. "I swear it wasn't there in the morning. I was getting in the shower, it was so noticeable I could see it in the mirror." Without hesitation, Brandi contacted her doctor. They sent her in for scans, a mammogram, and an ultrasound. By the time Brandi left the examinations, she knew she had cancer. "I could tell by the look on their face," she recalls.
On December 23, 2020, a time that was supposed to be joyous was rather stressful as Brandi Perron went in for a Biopsy. "It was right before Christmas. It was also the day of one of the biggest storms we have had in years. I told them that I didn't know if I could make it. They said 'just try your best, it doesn't matter what time you get here. We'll still do it.'"
A couple of weeks passed by over the holidays. Brandi then received the fateful call from her Doctor on January 4, 2021, and was told she had cancer. Brandi's doctor set up a meeting with a surgeon at the Breast Health Clinic at the Foothills Hospital. Through this meeting she would be briefed on her diagnosis. Even though the mass was large, they felt they had caught it early. With this in mind, they asked Brandi how she would like to move forward.
"The crazy thing about getting diagnosed with cancer is they give all these choices and at the end they are like 'what would you like to do' and I remember thinking 'I don't know.'"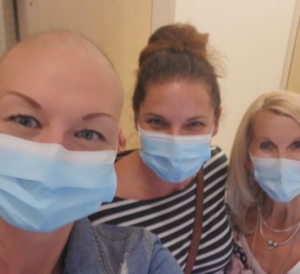 For about a week, Brandi stepped away to think over the options she was given with one of her closest friends by her side, a nurse at the Tom Baker Cancer Centre and someone who joined her for all of Brandi's appointments. After discussing her options with her friend and doing her own extensive research, Brandi decided to go with a double mastectomy.
Still navigating the changes today, Brandi said, "No one can prepare you for what happens when you have your breasts removed." After her double mastectomy, pathology showed cancer in the lymph nodes and Brandi was sent to the Tom Baker Cancer Centre to start chemo.
"My Oncologist is Doctor Webster… my experience with Doctor Webster was amazing. He allowed me a lot of say in my treatment and provided me with a lot of information. I was very into holistic medicine before I got cancer and he allowed me to have space to talk about some of those kinds of treatments as well." Providing this space for conversation helped bring a sense of autonomy during a confusing and overwhelming time.
When her chemo treatments came to an end, Brandi then started radiation. "Radiation is also scary, but it's a different kind of scary." However, she was happily surprised by the treatment she received from two radiologists at the Tom Baker Cancer Centre. "When I originally arrived [for her radiation appointment] and found out it would be two men who would be doing my radiation, I almost refused to go in. I almost felt 'man, I've been through enough already and I don't want two men doing my breast cancer radiation treatment. Those two guys turned out to be probably the best part of my experience. They were amazing and did everything to make me comfortable and then some."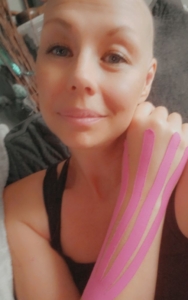 Chemotherapy can often be a challenging period for a cancer patient. Brandi recalls her experience with this treatment as strenuous. "I was supposed to have six courses of chemo, but I only had four. I had really bad headaches, jaw pains, and two times I had psychosis after my treatments. Which was really scary for my family, my kids especially." Treatments can impact patients in different ways. The side effects of chemotherapy became too dangerous for Brandi, ultimately leading to the decision to stop chemo at four treatments.
Brandi's radiation treatments occurred five days a week for five weeks. During this physically demanding treatment, Brandi's holistic interests came in handy. She often used organic ointments to help soothe and heal her radiation burns.
In December of 2021, Brandi was given a No Evidence of Disease diagnosis. She recognizes, however, that because her cancer was estrogen positive, she will always be at high risk for reoccurrence and is now on preventative treatment, including medication to put her in a medical menopause. "In some ways this is harder than active treatment. When you're done treatment, you're just done. Everything just goes back to what it was except for you."
Brandi still experiences symptoms from her treatments, such as pain in her bones, insomnia and headaches. The psychological impacts often outweigh the physical ones. "It's just a constant worry that every ache and every pain is just the cancer coming back. But all the meds give you the exact same symptoms as what it would feel to have the cancer coming back. I stopped calling my doctor every week, which I am sure he is grateful for." She chuckles.
When asked how she found support during this harrowing experience, Brandi opened up about the online community she had found. These groups provided space for her to open up about all aspects of her breast cancer journey, and she does the same for them.
"Those women online have saved my life repeatedly."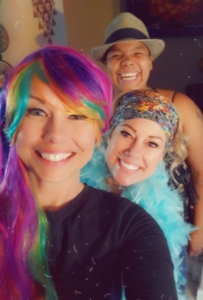 A constant theme running through our conversation was the idea of support and the deep gratitude Brandi held for those who lent her a helping hand. "My family doctor called me every other week," She explains. Her family doctor would even check on her children to see how they were coping with their mother's diagnosis. "I appreciated this so much because I felt like I didn't have the capacity to support my family." The not for profit agency she worked at also provided her with time and support to navigate her diagnosis. Along with family, friends, the breast cancer Support clinic in Calgary and the community she found online, Brandi found herself in the midst of a solid support system.
The financial burden of cancer is something that is not talked about often. Brandi opened up about her experience with this saying, "The financial burden of cancer is crazy. I don't think many people know about this, I certainly didn't. I am just starting to catch up." This experience is more common than most of us know. There is support out there, check out Alberta Cancer Foundation's Patient Financial Assistance Program here.
Being a Calgarian and going through all of her cancer treatments at Tom Baker Cancer Centre, Brandi is excited to see what the new Calgary Cancer Centre brings. "The new Calgary Cancer Centre is probably going to be off the hook. I think it's amazing. Tom Baker is so busy and there isn't enough space. It's the busiest place I've ever been." Brandi also explains that she is grateful that the Calgary Cancer Centre not only will be there for those facing cancer but has also brought jobs and opportunities to our city. "I am excited that the Calgary Cancer Centre is going to be there for people."
At the Calgary Cancer Centre, we're bringing together researchers, medical teams, prevention experts, patients and families in ways never before possible. Help make an impact for patients and donate to the OWN.CANCER campaign today.
https://owncancer.ca/wp-content/uploads/2022/08/Red-Black-Fitness-Gym-Presentation-Template.png
1080
1920
McKenzie Yates
https://owncancer.ca/wp-content/uploads/2021/08/OWN.CANCER_Wordmark-300x50.png
McKenzie Yates
2022-08-11 15:29:01
2023-02-13 20:28:16
Brandi Perron and Her Cancer Journey