In 2014, Carmelina had a feeling that something was not right with her health and consulted her doctor about it. Her intuition was right. Unfortunately, she was diagnosed with breast cancer that same year. Carmelina's diagnosis left her feeling alone, but she was determined to push through with love and laughter. Through this journey, she has found her purpose by creating a business in artistry, in which she does tattoo Areola Restoration for women who have undergone mastectomies. Carmelina and her business partner, Kacie, were coined the 'Nipple Sisters' through their incredible work. To this day, they continue to help women OWN their cancer journey by restoring their body confidence through tattoo artistry.
This is Carmelina's story…
Tell us about yourself…
I was born in Calgary Alberta and am the second eldest of 6 kids.  My mother is Irish & Métis, and my father was born in Italy.  Growing up in both Italy and Canada, I have always strongly identified with my Italian roots.  I love to cook and take care of those I love.  I appreciate art and culture and the beautiful and simple things in life. It led me to a career in artistry, makeup and fashion.  I am really passionate about my career which I believe to be my purpose because it is the fusion of my passion and experience as a breast cancer slayer.  (I like to use the term slayer rather than survivor). Did you know that the word slayer in slang means to overwhelm, as with laughter or love?
Laughter and love are the two most important things to me.

How did your cancer journey begin?
I had a feeling something was not right in my body and insisted my doctor looked into it.  At first, he didn't see the need to, but I continued to insist because like I said- I had a feeling something was not right.  
"I see Cancer in your breast, and it's moved to your lymph nodes." Those words from my doctor's mouth have never felt real.  Cancer?  But I was healthy?  I am young… no one in my family has cancer… My life instantly changed, and nothing made sense at the time.
Shortly after I was bombarded with calls, CT Scan appointments, MRI appointments, blood work, bone scan appointments, and echocardiogram appointments.  There was no space. At that point, I was meeting my chemo oncologist and my surgeon biweekly!
My head was full. My emotions were on a roller coaster.
I did not want to die.  I did not want to lose my hair. I did not want to lose my breasts. Everything I once took for granted was in jeopardy.
The initial diagnosis was a lot to process, and I felt really alone.  I had many friends and family who supported me, but it is different when someone has not experienced it.
There is no one way or right way to deal with a diagnosis.  I chose to believe that I wasn't sick.  Some would call that denial.  I call it mind power.
The power of the mind and meditation helped me.  I started to do things in my material life to honor the letting go process- like cutting my own hair off. That day, I was surrounded by friends and supported.  It was like a ceremony, and I felt like I was honoring what I was coming into… the unknown.
When my hair began to fall out- I shaved my head.  There is nothing you can do about the inevitable BUT there is a lot you can do in the space of the unknown.  I love to dance, and the process became a dance of releasing, letting go, clearing and bringing in.
My first round of chemo was my birthday on Dec 12, 2014, I had 8 rounds all together, radiation and surgery.
It was a slow surrender and the longest journey of strength.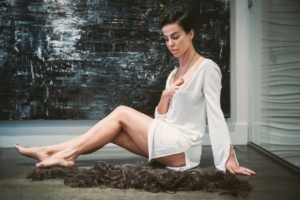 How are you doing today?
I am doing good today, and I am very conscious and aware of my health. I was healthy before but it's a complete lifestyle now. Now, I regularly get vitamin drips for immunity, I strength train and do yoga, I meditate and take supplements. Also, I have not had a drop of alcohol in 5 1/2 years. I am fully present and committed to living, and I am grateful to be alive.
Tell us about your treatment…
I was treated at the Tom Baker Cancer Centre, and I felt completely supported by the staff and the system.  Everything sort of happens so fast and there was constant help assisting me with all of the moving parts and navigation.
What was the inspiration behind the Nipple Sisters?
The Nipple Sisters was a true marriage of passion.  The initiative was established in response to the cancer-related death of Kacie's father in 2007 and my breast cancer journey. Together we believe we can make a difference by joining forces to help make women feel whole again.
We work together as certified paramedical pigmentation specialists focusing on Areola Restoration through a give back initiative called Procedures for a Positive Purpose.  As the nipple sisters, we have a lighthearted approach to a very serious matter.  We want women to feel good, confident and whole again.  Areola Restoration is symbolic of the end of the journey.  It is emotional and triumphant.
What is your favourite part about your work?
My favourite part of my work is to meet each woman and to listen to their story and then to see the look in their eyes when they look in the mirror after the procedure.  You can feel that look.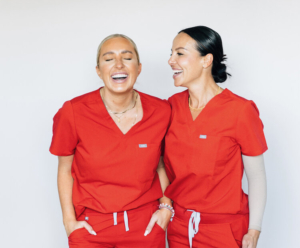 One huge missing aspect for me were integrative oncology resources at the Tom Baker Cancer Centre.  I strongly believe in mind, body, and soul healing. This healing integrative therapies. Fortunately, these resources will be available at the new Calgary Cancer Centre, which is a huge win.
Let's create some awareness about the women's stories who are thriving after a diagnosis.  Every journey is different, we can learn from one another and tap into some strength.
Let's create awareness about HEALTH and prevention. Let's create awareness about HEALING.  Have you seen the HEAL Documentary.   Your mind is powerful.  Watch this movie.   I am living proof that this is not "whoooo whooo".
I completed my treatment plan with other natural and holistic protocols, and I am grateful I am here today to tell my story.
You can find Carmelina on Instagram, @Carmelinabaccari or her website at www.carmelinabaccari.com.
You can find the other half of the 'Nipple Sisters', Kacie, on Instagram, @kacierainey or her website at www.kacierainey.com.
At the Calgary Cancer Centre, we're bringing together researchers, medical teams, prevention experts, patients and families in ways never before possible. Help make an impact on cancer research and treatment and donate to the OWN.CANCER campaign today.
https://owncancer.ca/wp-content/uploads/2023/01/Carmelina-4.jpg
640
852
McKenzie Yates
https://owncancer.ca/wp-content/uploads/2021/08/OWN.CANCER_Wordmark-300x50.png
McKenzie Yates
2023-01-18 00:00:28
2023-01-23 18:24:06
Carmelina and the Nipple Sisters – Helping women own cancer