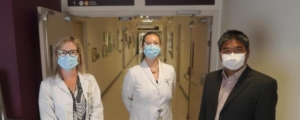 Glioblastoma is a particularly aggressive brain cancer with a very low survival rate. But exciting new research suggests a common vitamin could help patients with glioblastoma.
University of Calgary oncologist Dr. Gloria Roldan-Urgoiti, MD, and neuroscientist Dr. Wee Yong, Ph.D., are leading a Phase I-II clinical trial in patients with glioblastoma to evaluate the effectiveness and safety of niacin (vitamin B3) being added to first-line radiotherapy and chemotherapy. The Neuro-Oncology team, headed by Dr. Paula de Robles, MD, at the Tom Baker Cancer Centre is currently enrolling patients.
Earlier work from Yong's team, including Dr. Susobahn Sarkar, Ph.D., showed that niacin could stimulate the brain's immune cells, microglia, to stop tumour growth and potentially save lives. "To me, to OWN. CANCER means we are winning the battle of the brain, where brain immune cells are directed towards conquering brain cancer," says Yong.
Roldan Urgoiti and Yong believe collaboration is key to transforming how cancer is treated in the future. "The new Calgary Cancer Centre will facilitate communication between different specialists and researchers that need to work together for the benefit of patients diagnosed with cancer and their families," says Roldan-Urgoiti. 
This is our moment. Our once-in-a-generation opportunity to transform the landscape of cancer research, care and treatment, like glioblastoma. We're ready to OWN.CANCER. Are you with us?
https://owncancer.ca/wp-content/uploads/2022/03/id_news_0_20210525110531_60ad15fb8ad5e.jpeg
300
750
Brennan Black
https://owncancer.ca/wp-content/uploads/2021/08/OWN.CANCER_Wordmark-300x50.png
Brennan Black
2022-03-29 16:41:30
2023-02-13 21:44:52
Winning the battle of the brain