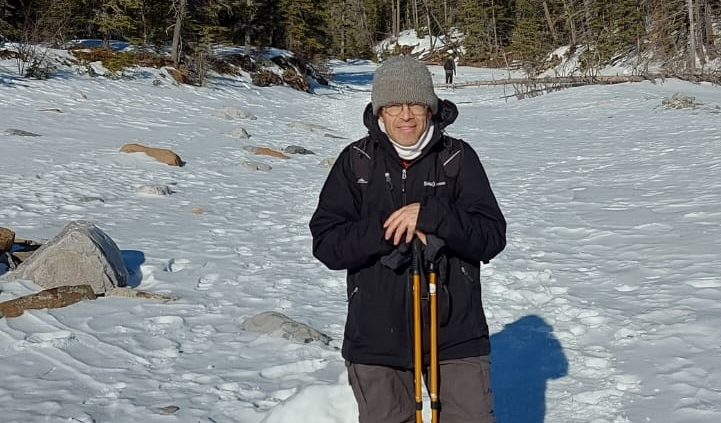 When were you diagnosed with multiple myeloma?
In July 2019, I started experiencing pain in my lower back. My chiropractor was unable to make it better after a couple visits, so I switched to physiotherapy. This gave temporary relief only.
By the end of August, I was walking with a cane. By the end of September, I could barely walk and had lost 18 kg in my weight. On October 4, 2019, I went back to the ER and this time, they kept me. I am very thankful for the ER doctor there as she took the time to visually inspect me and could see a tumour pushing up the skin on my ribs. She knew the tumour and the back issues were related.
I was confused about how this could be. A week later, I received my myeloma diagnosis right in time for Thanksgiving!
Where were you treated?
Prior to my diagnosis, I felt that I was just sent away with quick fixes every time that actually fixed nothing. However, once I knew the source of my troubles was myeloma, I felt very scared and hopeless but also relieved. I was in a dark place but was able to start talking with medical teams who know myeloma and specialize in its treatment. I was able to ask questions and get answers.
In Oct. 2019, I spent one week in the Spinal Ward at the Foothills hospital as we waited for various test results to see if I would need back surgery. Once it was determined that myeloma was the cause of my back issues (I had two collapsed vertebrae), I was immediately sent to the Hematology Ward at the Foothills Hospital, and treatment started almost immediately in the form of chemotherapy. A week later, I was sent home with pills in hand and continued my initial treatment for four months leading up to a Stem Cell Transplant in March 2020.
The nurses and doctors in the Hematology Ward, Apheresis Ward & Tom Baker Cancer Centre are top-notch. They know their job very well, and they also have compassion.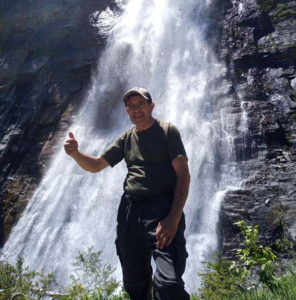 What advice would you give to other cancer patients going through a similar experience to yours?
It is very tough to learn you have cancer. Life, as you know it, changes with one word. However, you are not alone and do not try to go on such a journey alone. Both patients and caregivers need support.
At that difficult time, I leaned on my faith, family and friends. As I started to improve, I found it very helpful to talk. Try not to be afraid to talk to those who have also been diagnosed. They can help in a special way. While big treatments were still on the horizon in early 2020, I started to exit the dark place and got renewed hope believing that I could achieve better days just like other patients I spoke to.
It was helpful for me to never ask the question' "Why did I get cancer?" Such a question can't be answered for me, so I did not dwell on it. Instead, I chose to focus on "What can I do about this and a new life with myeloma?".
My first glimmer of hope came during my hospital stay just after my diagnosis. The nurse came and asked me if I would like a visit from two volunteers who were in the ward that day from the Leukemia and Lymphoma Society. I accepted. One was a 10-year survivor. Next thing I knew I was in tears. Their short talk with me gave me hope. A life changing moment and I am forever grateful to them.
Reach out to support groups in your area. You will be able to get their contact information at cancer clinics and via hospital social workers. (Examples: Southern Alberta Myeloma Patient Society, Myeloma Alberta Support Society & Myeloma Alberta Support Society Myeloma Canada)
What are some of the most important things that you want people to know about multiple myeloma?
Multiple Myeloma is the second most common blood cancer affecting the plasma cells in the bone marrow, yet it is relatively unknown. There currently is no cure.
My current medications are keeping the myeloma in remission, but I will relapse one day. However, there is hope.
There have been great advancements in treatments giving many patients longer life expectancy and better quality of life. Personally, I am benefiting from treatments we now have with great gratitude to those patients who were and are part of clinical trials and great myeloma research ongoing in Alberta.
At the Calgary Cancer Centre, we're bringing together researchers, medical teams, prevention experts, patients and families in ways never before possible. You can help us advance Multiple Myeloma research and treatment in Calgary, by donating to the OWN.CANCER campaign today.
https://owncancer.ca/wp-content/uploads/2023/03/Scott-photo-1.jpg
1600
721
McKenzie Yates
https://owncancer.ca/wp-content/uploads/2021/08/OWN.CANCER_Wordmark-300x50.png
McKenzie Yates
2023-03-29 22:58:51
2023-03-29 23:57:36
Scott Beer on his Multiple Myeloma Journey