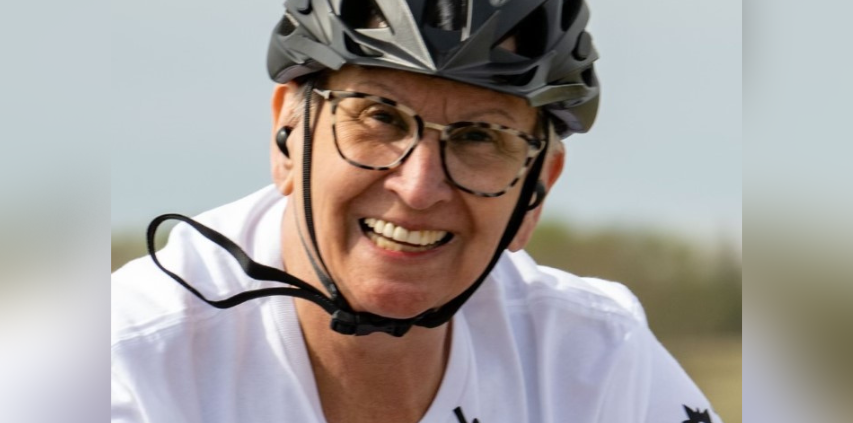 Beverley Dunn was diagnosed with Multiple Myeloma in 2018. This cancer journey has taught Bev many lessons. Most of all, she learned the importance of support throughout difficult times. Today, Bev is the President of the Southern Alberta Myeloma Patient Society (SAMPS), helping to provide guidance and care for those facing this devastating blood cancer.
For Multiple Myeloma Awareness Month, Bev shares her story with us…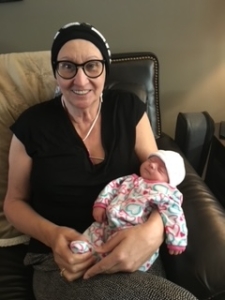 When were you diagnosed with Multiple Myeloma? What were some of the initial symptoms you faced?
May 30, 2018, was the day my life changed forever.
In the Spring of 2018, I experienced fatigue and increased thirst. Those were my only indications that something might be wrong. These symptoms increased, and on May 30, 2018, I got up to go to work, and I was so fatigued I couldn't stand upright long enough to finish my shower. That's when the warning bells went off.
My husband took me to the ER at Rockyview, where bloodwork was done. Unbeknownst to me, my kidneys were failing! Later that evening, after more extensive bloodwork, the on-call Oncologist told us I had Multiple Myeloma, and I was admitted to Rockyview Hospital for further testing.
Where were you treated? How was your treatment experience?
After a week in Rockyview Hospital, I was referred immediately to the Tom Baker Cancer Center. I attended the Hematology Clinic for 4.5 months of chemotherapy and then transferred to the Bone Marrow Clinic for my autologous stem cell transplant, which occurred on November 16, 2018.
The staff, nurses and oncologists at the Tom Baker Cancer Center are marvellous! I felt absolutely supported by and had total confidence in the team at the Tom Baker and on the transplant unit at the Foothills Hospital. They went above and beyond to ensure that my husband and I understood what was happening during every phase of treatment.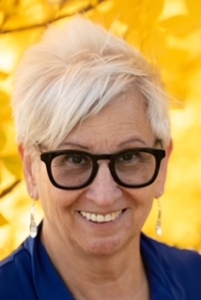 What advice would you give to other cancer patients going through a similar experience to yours, and how can they find the support they need to keep moving forward?
First of all, listen to your body. Myeloma symptoms can be vague, as evidenced by my own case. What I thought was fatigue caused by stress and thirst I attributed to the HVAC heating of our older building downtown were actually symptoms of a life-threatening, incurable blood cancer!
Listen to your oncology team. If you have a question or a problem, contact them. Work with them and learn all you can about your particular situation. They always say "that's what we're here for", and they mean it.
Reach out to a support group. I reached out to the Southern Alberta Myeloma Patient Society (SAMPS). They helped me through my journey, so I eventually joined their Board of Directors to learn more and give something back. Myeloma Canada is also a tremendous source of information on Myeloma.
Maintain a positive outlook and a sense of humour.
What is some knowledge you'd like to share that you've learned at the Southern Alberta Myeloma Patient Society?
Myeloma is the second-most common blood cancer but is relatively unknown. There is no cure.
Research has made great strides in developing treatments which have extended life expectancy by years [for Multiple Myeloma patients].
Symptoms can include kidney issues, bone pain, recurrent infections and cold sores, fatigue, or tiredness accompanied by other symptoms like loss of appetite, confusion, increased thirst, and nausea and vomiting. People experiencing any or all of these symptoms should see their doctor.
Myeloma is different for almost every person. Some people experience bone pain. Others, like myself, have vague symptoms like fatigue. Treatments are tailored specifically to each person. It's not "one size fits all" treatment.
Every year, 3,800 Canadians are diagnosed with Myeloma.
At the Calgary Cancer Centre, we're bringing together researchers, medical teams, prevention experts, patients and families in ways never before possible. You can help us advance Multiple Myeloma research and treatment in Calgary, by donating to the OWN.CANCER campaign today.
https://owncancer.ca/wp-content/uploads/2023/02/Untitled-design-26.png
1280
853
McKenzie Yates
https://owncancer.ca/wp-content/uploads/2021/08/OWN.CANCER_Wordmark-300x50.png
McKenzie Yates
2023-03-01 18:41:06
2023-03-02 21:13:37
Beverley Dunn on her Multiple Myeloma journey