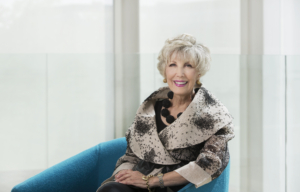 A campaign of this magnitude doesn't happen without the support and dedication of our community. The OWN.CANCER campaign cabinet is made up of passionate Calgarians who are champions for improved cancer research, treatment and care in our province. Through their advocacy, donations and guidance, we're closer to reaching our $250 million fundraising goal in support of the Calgary Cancer Centre. In this series, we're sitting down with our cabinet members to learn what the OWN.CANCER campaign means to them and the impact it will have on Albertans facing cancer. 
"The Calgary Cancer Centre is a daring dream being realized through unfettered determination and sheer perseverance."
Mavis Clark is an educator who retired from the Calgary Board of Education, having held a variety of school-based and senior-level administrative positions. She completed her career as the Superintendent of Human Resources. Mavis Clark graduated from the University of Calgary with a Bachelor of Education and Masters of Education and holds a Certified Human Resources Practitioner designation from CHRP Canada.
In addition to completing two terms as a UCalgary Senator, she served on community boards, particularly those focused on women and families including Homefront Calgary, Prairie Action Foundation and the Calgary Women's Emergency Shelter. 
Mavis Clark is a passionate champion for the community, investing time in the education of children, social justice reform, and changing the narrative about lung cancer. 
What inspires you to OWN.CANCER?
"In March 2007, my husband Paul Clark heard four words that would change our lives forever: 'You have lung cancer'. With the utterance of this unvarnished statement, our charmed life was over as we knew it. Paul was a non-smoker, the picture of health and in the prime of his life when he was diagnosed with this deadly cancer. In April 2010, Paul succumbed to the disease.  Like most people with lung cancer, he didn't live five years past the diagnosis.
"It was then that I stepped forward to become a vocal advocate to push for the advancement of lung cancer awareness, prevention, screening and increased funding for research.  The stark reality was that the lack of funding would continue to dramatically limit the options and outcomes for lung cancer patients.
"It was clear if nothing changed then countless families would share our heartache. I couldn't change my own circumstance but perhaps I could make a difference for someone else."
"I started a personal campaign to "own lung cancer".  Over the past 12 years, I have become a recognized cancer advocate, bringing much-needed attention to the stigma associated with lung cancer and its dismal survival outcomes.  As a community member, I have supported The Arnie Charbonneau Cancer Institute through the Cumming School of Medicine. Together, our mission is to decrease cancer in the population, advance treatment and improve the patient experience. To this end, the Paul Clark Lung Cancer Fellowship was established in 2011. It is now an integral part of this mission, to attract and support innovative researchers as they seek to change the outcomes of this devastating disease. These efforts have led to the formation of The Lung Cancer Translational Research Initiative at the Tom Baker Cancer Centre."
Why was it important to you to volunteer and contribute to this campaign?
"In the twelve years since Paul's death, I have worked closely with a brilliant team of clinicians/researchers who are driven by a commitment to bring real hope to lung cancer patients and their families. I continue to be inspired by their quest to find the right treatment so each patient can live their lives to the fullest. Working with these talented individuals, and being a member of a powerful collaborative partnership between community-health care scientists/medical professionals has helped me to deal with his passing.
"I am thrilled beyond words by the progress our Calgary clinician/researchers are making to translate the bed to bench and bench to bedside knowledge into leading-edge cancer prevention/treatment in many cancers.  I am proud to be part of the OWN.CANCER campaign.  It represents what we do best in Alberta the community coming together to achieve big, bold, audacious goals. 
"The OWN.CANCER is all about engaging the community in a collaborative relationship with the best and brightest in the medical field to be leaders with the goal of conquering cancer at a world level. Collectively we can change the face of cancer if everyone embraces and "owns" the cause.  Every dollar raised will make a huge difference!!!  I am committed to doing my part through the continued funding of The Paul Clark Lung Cancer Fellowship and by leaving a legacy gift to financially support the advancement of cancer research into the future. 
"The OWN.CANCER campaign will impact so many lives…. to me, it is the personification of hope."
How do you believe this campaign and The Calgary Cancer Centre will impact Albertans facing cancer?
"You can never really anticipate how life will unfold.  We all have dreams. We all have hopes. But sometimes reality has a different plan. The new Cancer Centre will be there for those facing the challenges of a cancer diagnosis. This magnificent facility is the realization of many acts of generosity, volunteer efforts and institutional partnerships coming together to make an ambitious dream come true.
"The new cancer centre has a powerful humanistic vibe…a feeling like you're being hugged and enveloped by warmth. You have the sense that it's no longer about what has happened. It's about what's going to happen and creating a safe space for everything that's coming next. Each cancer patient's journey will be supported in a building bolstered by imagination, innovation and industriousness. This facility will offer life-affirming support for patients and their families informed by revolutionary research and the utilization of cutting-edge equipment. The new Cancer Centre will be the catalyst for progressive cancer care for our community and far beyond. Working together, all things are possible." – Mavis Clark
Click here to learn more about the OWN.CANCER campaign
https://owncancer.ca/wp-content/uploads/2022/02/MavisClark-7573.fin_-scaled.jpg
1642
2560
Dhakshayini Boopalan
https://owncancer.ca/wp-content/uploads/2021/08/OWN.CANCER_Wordmark-300x50.png
Dhakshayini Boopalan
2022-02-22 20:36:52
2023-02-13 22:00:01
Mavis Clark – Campaign Cabinet Members