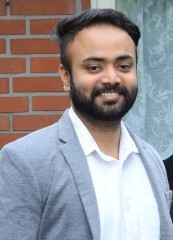 The cells in our bodies rely on the stability of our DNA to survive in a healthy state. When something goes wrong with our DNA, cells are compromised. Usually, the cell will repair itself, but if DNA repair is unsuccessful, this can lead to tissue and organ damage, and sometimes, cancer. 
UCalgary researcher Dr. Aditya Mojumdar, PhD, studies the factors that maintain DNA stability during repair. He has discovered that DNA repair switches from error-free to error-prone as cells age, leading to more mutations. This finding may explain why cancer occurs with age.
Dr. David Schriemer, PhD, and Susan Lees-Miller, PhD, UCalgary researchers in the Robson DNA Science Centre, assembled a team of scientists from Alberta and British Columbia to look at DNA repair and aging using cutting-edge molecular imaging approaches. They are currently seeking funding for a multi-year project that would be the first of its kind in Canada, bringing new state-of-the-art equipment to the Calgary Cancer Centre. 
"Every life-scientist dreams of making a difference in societal health with their research. The new collaborative Calgary Cancer Centre is paving the way for that dream to come true," says Mojumdar. 
At the Calgary Cancer Centre, we're bringing together researchers, medical teams, prevention experts, patients and families in ways never before possible. Help make more research like that done by Dr. Aditya Mojumdar possible, and donate to the OWN.CANCER campaign today.
https://owncancer.ca/wp-content/uploads/2022/04/Aditya-Mojumdar_Decreasing-Cancer-in-the-Population.jpg
240
173
Brennan Black
https://owncancer.ca/wp-content/uploads/2021/08/OWN.CANCER_Wordmark-300x50.png
Brennan Black
2022-04-08 15:05:46
2023-02-13 21:13:50
Cancer, aging and DNA