At this very moment, the largest cancer centre in Canada—the Arthur J.E. Child Comprehensive Cancer Centre—is coming to life in Calgary. When it opens its doors in 2024, the Arthur Child will shelter 1.3 million square feet of world-leading cancer care, research and education. But, in order to achieve the full potential of the Arthur Child, we need your help. Big dreams need big support. We need to raise $250 million to purchase cutting-edge equipment, support world-class research and fund supportive programming for patients and their families. Without these essential components, the Arthur Child will remain just a building. However, with your support, we can elevate it into a world-renowned cancer centre—a beacon of hope for Albertans facing cancer. 
Here are a few compelling examples of how the generous support of Albertans is already transforming the Arthur Child from a mere building into a place of healing and hope: 
1. LEADING EDGE EQUIPMENT: MR LINAC MACHINES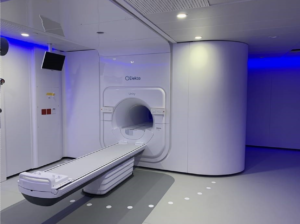 Over the last year, we saw the installation of two MR LINAC machines in the Arthur Child, funded through donations to OWN.CANCER. These machines, offering the world's most advanced radiation therapy, are incredibly rare. There are currently only a handful operational in North America, and the Arthur Child will be the only centre in Canada to host two of these machines, advancing radiation therapy for patients across Alberta.  
2. LEADING EDGE EQUIPMENT: IV ROBOTIC COMPOUNDER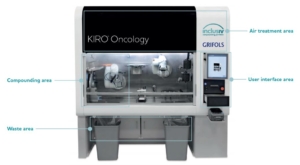 The Arthur Child will be the first cancer centre in Canada to utilize a robot – that is, the IV Robotic Compounder – to assist in creating chemotherapy medication for patients. This innovation will enhance patient safety through precise dosing accuracy and in-process barcode readers for drug identification and tracking. It will also improve staff safety by minimizing exposure to hazardous medications and reducing repetitive strain injuries. 
3. LEADING EDGE EQUIPMENT: EARLY DETECTION WITH PET CT
Thanks to donations to the OWN.CANCER campaign, the Arthur Child will also be adding more opportunities for early detection of late-stage cancers through the addition of a dedicated PET-CT machine for cancer patients. This machine will have a profound impact, enabling faster and more accurate diagnoses for thousands of patients in southern Alberta, while also helping to advance cancer research. 
4. PATIENT CENTRED CARE: CREATING A HEALING ENVIRONMENT

Since the very beginning, patient experience has been central to the Arthur Child's design. To help, Alberta Health Services has engaged the Patient and Family Advisory Committee – a group of Albertan volunteers – every step of the way to ensure that the patient voice guides decisions and enhances future patient experiences. From the moment you enter the centre, you'll feel the difference – surrounded by gardens, courtyards and serene spaces for patients to find solace and reflection on their cancer journey. One standout feature is the healing gardens running through the heart of the cancer center.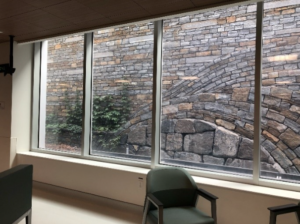 Additionally, exterior light wells provide natural light to radiation therapy spaces, which are required to be in the basement and can often feel dark and distant. Now, they are open and filled with light. 
Even within the patient rooms, the Arthur Child is designed with cutting-edge technology. It features "Smart Glass" that seamlessly transitions between clear and tinted states. This innovation not only enhances patient comfort by controlling glare and heat, thus reducing energy consumption, it also prioritizes patient safety by eliminating the necessity for traditional fabric window coverings.  As Charlotte Kessler, co-chair for the Patient and Family Advisory Council at the Arthur Child, aptly puts it,
"Those things may seem small, but when you're in that world for such a long time, those little things really add up."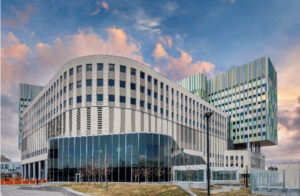 5. PATIENT CENTRED CARE: CHILD MINDING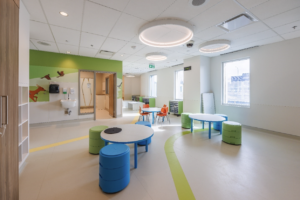 Cancer doesn't care if you have a family at home. The Arthur Child was built with this in mind. Recognizing the challenges that patients with families face when balancing their health with their responsibilities at home, the Arthur Child will offer child minding services to patients so they can focus on getting the treatment they need, while ensuring their loved ones are also being cared for.  
As outlined in the examples above, the momentum to bring world-class cancer care and research to Calgary is building in Calgary. Progress is happening. We are already recognized as a hub for cancer research, treatment and care. Yet, we're poised to achieve so much more. To reach our $250 million goal and unlock the Arthur Child's full potential, we can't do it alone. It takes a community, including our donors and supporters, to transform the Arthur Child from a building into a beacon of hope. 
https://owncancer.ca/wp-content/uploads/2023/09/OWN_Beacon-of-Hope_Social-01.png
1801
1801
Dhakshayini Boopalan
https://owncancer.ca/wp-content/uploads/2021/08/OWN.CANCER_Wordmark-300x50.png
Dhakshayini Boopalan
2023-09-25 18:03:08
2023-09-26 20:06:04
MORE THAN A BUILDING. A BEACON OF HOPE.