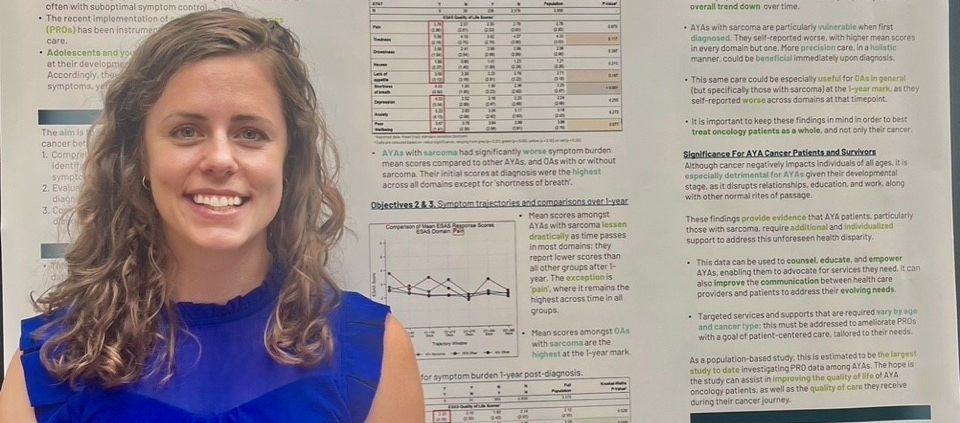 Nicole was born in Calgary, raised in both BC and Alberta, and graduated from the University of Calgary with a Bachelor of Arts in French and a minor in Linguistics.
In 2016, she met her partner, Josh, who was from Australia and pursuing his PhD in engineering at the U of C. They were both only 25 years old when Josh was diagnosed with cancer in his spine – a rare and aggressive type of cancer called Ewing's sarcoma.
"It took a while to diagnose it because it was so unusual. It manifested as back pain at first," Nicole recalls. Josh underwent many surgeries and complications, and Nicole spent every day with him at the hospital, becoming his main caregiver.
Still, Nicole is glad to have been his caregiver. "It was definitely one of the most fulfilling and beautiful experiences. I feel really lucky that I could be there for him."
In fact, Nicole explains that it changed her trajectory of life. Her original passions to pursue teaching and study linguistics shifted to something else. "While both very great fields of study, they didn't feel as meaningful anymore." Instead, Nicole felt more drawn to the field of health sciences.
"Some people never want to look at a hospital again after this kind of experience," she says, "but I was quite the opposite and felt drawn and pulled towards it."
With support from her late partner's family and peers, she decided to go back to school and is now pursuing a Bachelor of Health Sciences Honours program at the U of C, specializing in health and society. Nicole finds great joy and purpose in it. "I feel very fulfilled and very inspired and motivated to keep learning."
This past summer, Nicole was involved in her first cancer research work through a summer studentship with Dr. Miranda Fidler-Benaoudia. Her focus was on adolescents and young adults (AYAs), and their experience with cancer symptoms and outcomes. Nicole was also able to present her research at the Arnie Charbonneau Cancer Institute Summer Student Research Day, which was a great experience for her.
Expressing her gratitude for her mentor and supervisor Dr. Miranda Fidler-Benaoudia, Nicole shares that she was "wonderfully supportive and inspiring."
Nicole also hopes that her cancer research can help shape the care that adolescents and young adults (AYAs) will receive at the new Calgary Cancer Centre, which will be completed next year.
"The care that [Josh] had was extraordinary the whole time at the Tom Baker Cancer Centre," she reflects. "[The Calgary Cancer Centre] is going to take it to a completely new level."
Nicole is also excited about the Centre having a dedicated section for adolescents and young adults (AYAs). As there is a lot of attention and funding for children and older adults with cancer, Nicole wants to advocate for the adolescent and young adult (AYA) age group, who may be forgotten in relation to cancer. "They're in this in-between stage of life," she says, explaining that they are discovering their self-identities, often going to school or just starting their careers, and trying to navigate life on their own.
"As a result, the AYA age group has unique needs that we are striving to meet by advocating for targeted resources." Nicole explains.
Drawing from personal experience, Nicole also explains about how she and her partner often felt isolated, as they were most likely 30-40 years younger than others around them during most cancer treatments.
Overall, Nicole feels positive about sharing her story, and feels fortunate in her involvement in the health science field of study. "While it's very emotional at times… overall more than anything, it feels very empowering. And I feel really, really lucky to be where I'm at having the opportunity to do this and hopefully make a tiny difference."
At the Calgary Cancer Centre, we're bringing together researchers, medical teams, prevention experts, patients and families in ways never before possible. Learn more about how we plan to OWN.CANCER through the Calgary Cancer Centre here.
https://owncancer.ca/wp-content/uploads/2022/10/thumbnail_IMG_2870-e1666025143958.jpg
818
960
McKenzie Yates
https://owncancer.ca/wp-content/uploads/2021/08/OWN.CANCER_Wordmark-300x50.png
McKenzie Yates
2022-10-14 23:14:50
2022-12-08 20:37:58
How Nicole Maseja owns cancer