Brayden Kenly and Carson Weiss, both 11-year-old students, raised $2,989 for the OWN.CANCER campaign as part of the Take Action Fair at school. This project was deeply personal for them, as Brayden's Mother, Trish, was diagnosed with metastatic breast cancer, and Carson's Grandmother faces cancer as well. Through this fundraiser, they hoped to raise awareness and $2,500 to support the new Cancer Centre in Calgary – opening in 2024.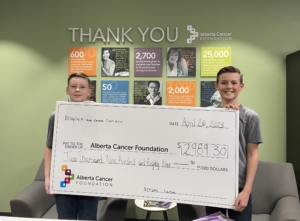 In 2019, Trish Kenly noticed a small lump while doing an at-home breast exam. Within a short couple of months, Trish would receive a stage 4 breast cancer diagnosis, have a lumpectomy and learn of a metastasized mass in her spine.
With her two young children, Brayden and Hailey, at the front of her mind, Trish explains that "Hearing that the cancer had moved throughout my body was the most devastating moment in my world."
As the years passed, her scans were showing no new areas of concern. Trish found herself grateful for the incredible care she received at the Tom Baker Cancer Centre and hopeful for new things to come at the new Cancer Centre in Calgary. So when Brayden was given the Take Action project, Trish suggested the OWN.CANCER campaign.
From that moment on, Brayden and Carson were full steam ahead with this project.
"Once I found out about OWN.CANCER I knew that I just had to set up my own page and support the cause further." – Brayden, 11-years old.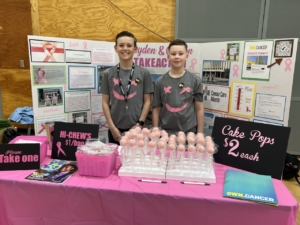 Hoping to raise $2,500, Brayden and Carson, and their Moms, pulled out all of the stops for the Fair. They sold homemade Cake-Pops, made by Trish, while rocking custom designed T-shirts, made by Lisa – Carson Weiss's Mother. They also went above and beyond on their poster.
It turned out to be a great success, surpassing their fundraising goal, and reaching a total of $2,989!
"I feel excited because I know that it is going to help people with all different types of cancers get the best treatments available." – Carson, 11-years old.
Carson's Mother, Lisa Weiss, also knew the value of giving back to cancer care in Alberta. She explains, "Being a registered nurse, I actually started my career on a hematology/oncology unit. I experienced first hand the importance of having access to advancing treatment options as well as having a place where people can receive their treatment in a comfortable space. The new cancer centre will be able to provide people with most current treatment options available as well as provide a beautiful space for them and their families to come and feel truly taken care of both physically, emotionally and psychologically. "
We are so inspired by the care these two young boys, and their families, brought to this project. The new Cancer Centre in Calgary will be opening in 2024 and with outstanding commitment, like this, from our communities, we will OWN.CANCER!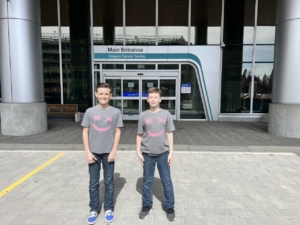 "I believe that this new building will play a big role in finally finding the cure to cancer and if I get to see the day that this dream comes true then it will be one of the most happy days for the earth…" – Brayden Kenly
https://owncancer.ca/wp-content/uploads/2023/04/BraydenCarson.jpg
960
1280
McKenzie Yates
https://owncancer.ca/wp-content/uploads/2021/08/OWN.CANCER_Wordmark-300x50.png
McKenzie Yates
2023-04-28 18:40:46
2023-04-29 00:52:14
Brayden and Carson own cancer