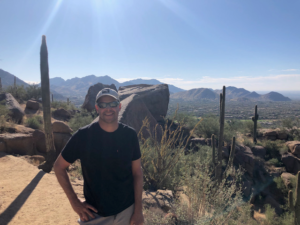 A campaign of this magnitude doesn't happen without the support and dedication of our community. The OWN.CANCER campaign cabinet is made up of passionate Calgarians who are champions for improved cancer research, treatment and care in our province. Through their advocacy, donations and guidance, we're closer to reaching our $250 million fundraising goal in support of the Calgary Cancer Centre. In this series, we're sitting down with our cabinet members to learn what the OWN.CANCER campaign 
means to them and the impact it will have on Albertans fac

ing cancer.

Chris Kucharski has had a thriving career as a telecommunications professional and executive, having retired as Shaw's President – Consumer in 2018. Since then he has split his time in between startup investing in the tech space along with various philanthropic endeavours, including serving as Board Trustee for the Alberta Cancer Foundation since 2019. Staying active and healthy remains a personal priority, along with spending time with family, creative pursuits, and consulting work. Chris also holds degrees from the University of Alberta and Simon Fraser University.

What inspires you to OWN.CANCER?

Certainly nobody wants to hear the words that you have been diagnosed with cancer. Your world is rocked and the mental challenge can become nearly as big as the physical one. When I was diagnosed, my core motivation became about the ones I love – living longer to watch my kids become adults and go through life's milestones, having new experiences, or just enjoying the simple moments of hanging out together. I'm not always successful at it, but I think I am happiest when I keep gratitude top of mind, and the most important things front and centre. So for me, it comes back to what the core mission of  the Alberta Cancer Foundation is all about – creating more moments for Albertans facing cancer, and the reality of how precious our time here really is.
For me, it comes back to what the core mission of  the Alberta Cancer Foundation is all about – creating more moments for Albertans facing cancer, and the reality of how precious our time here really is.

– Chris Kucharski
Why was it important to you to volunteer and contribute to this campaign?
I'm a born and raised Albertan, and have lived in Calgary for over a decade.  Making the effort to give back to the community that has been so good to me has become something that matters deeply – and especially so after having gone through my own cancer experience.  I can't properly convey the gratitude I have for the incredible health care professionals that we rely on here in Calgary and I feel really fortunate to have been under their care at Foothills/Tom Baker. I live nearby the new cancer centre and every time I pass it, I feel so enthused about what this means for our city and community – it's truly exciting to be a part of.
How do you believe this campaign and the Calgary Cancer Centre will impact Albertans facing cancer?
This really is a game changer for Calgary, and Alberta. When it opens in 2024, it will be the largest comprehensive cancer centre in Canada, and a major asset for Calgary and the province. Meaning not just a beautiful facility, but one that will gather the right people/talent with the right tools to drive research and transform cancer care and treatment. That includes precision care, where treatments can be planned and coordinated around each individuals physical, mental and social needs. Regrettably, we know that nearly everyone is affected by cancer in their lifetime, whether themselves or someone they love. Helping the new centre realize its potential to improve care and outcomes is therefore extremely motivating, and I'm certain that's something all of us can rally behind.
At the Calgary Cancer Centre, we're bringing together researchers, medical teams, prevention experts, patients and families in ways never before possible. Help make an impact for patients like Ashley, and donate to the OWN.CANCER campaign today.
https://owncancer.ca/wp-content/uploads/2022/05/Chris-K.-Story-e1653598655690.png
300
400
McKenzie Yates
https://owncancer.ca/wp-content/uploads/2021/08/OWN.CANCER_Wordmark-300x50.png
McKenzie Yates
2022-05-27 16:40:04
2023-02-13 20:55:29
How Chris Kucharski owns cancer